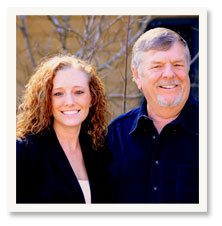 In 1996, Andy Rochelle relocated to Townsend from Humphreys County, Tennessee, after having been a farmer all of his life. He joined Dogwood Realty to share the beautiful East Tennessee area with other families and to, hopefully, make a few friends along the way.
Candi Rochelle, Andy's daughter, graduated college from the Cumberland University in Lebanon, Tennessee in 1996. After graduation, she ended up living several places and after a winter in Michigan she realized she couldn't take the northern weather.
She was on her way to Nashville and stopped in Townsend for a visit. While she was here she fell in love with the quiet way of life, the moderate weather, and friendly people. Andy asked Candi if she would like to "stick around for a while" and help out around the office.
It wasn't something Candi thought she would ever do, but she soon fulfilled all of the requirements to become the principal broker of Dogwood Realty. Of the experience, Candi says, "This area is so wonderful. I've never looked back. I can't imagine calling anywhere else home."

Dogwood Realty, LLC is a family owned and operated organization. We have been in business for over 20 years and take great pride in our professional reputation as well as our standing in the community.
The people who walk through the doors of Dogwood Realty begin as clients, but we are proud to say that they end up as our friends. This business is our family and our livelihood. We are proud of what it has become and look forward to growing in the future.
Our offices are open 7 days a week because we know that Monday through Friday isn't convenient for everyone.
No request is too large or too small; if what you want is out there, rest assured, we will find it for you. We take great pride in meeting the needs of our customers and will go to great lengths to provide you with satisfaction.
We have provided testimonials from a few of our happy customers, below to illustrate our commitment to our clients.

When Andy Rochelle came to Townsend from Humphreys County (16) years ago, he brought his small town ways with him. His upbringing in Waverly made it easy for Andy to adapt to the pace of the little community located at the foot of The Great Smoky Mountains National Park.

When my wife and I decided to swap our cabin on the Little River for a place at a higher elevation and mountain views inside Laurel Valley.

We chose Andy as our realtor, based on his reputation. But we were immediately struck by his friendliness and his concern for our wishes. Those were qualities he brought to selling real estate in Blount County from his humble beginnings as a farmer in Western Middle Tennessee.

The slogan at Dogwood Realty is "We never close, we never rest and if you don't make a sale, make a friend." I believe it - in the process of selling our cabin and buying another, Andy was always available to answer all of our questions, big and small. He never hesitated to make helpful suggestions and in a matter of (7) days our transaction was complete to our total satisfaction.

In dealing with Andy and later his daughter Candi, who shares her Dad's positive outlook, we have also purchased some mountain property we expect will yield a good return when we are ready to sale.

Doing business with Andy and Candi Rochelle and the friendly staff at Dogwood Realty, L.L.C. has made our venture into the exciting world of real estate an absolute pleasure.

I know that you will have the same experience with Andy and Candi that I have. So give them a call, stop by, do some business or as they say at Dogwood Realty - "make a friend".

Haywood Harris

Former Associate Athletic Director, UT - Knoxville
Currently, Special Assistant to the Athletic Director, UT - Knoxville
When my wife and I came to Townsend, Tennessee and rented a cabin. After just a few days in this mountain paradise, we knew where we wanted to be. In just a few short weeks we traveled back to Tennessee and met with Andy Rochelle. We explained our dream and let Andy do the rest.

To date we have either purchased, sold or have referred Dogwood Realty, L.L.C. in over 10 real estate transactions. Both Andy and Candi Rochelle have been professional, diligent and "above all" helpful every step of the way. To find a business partner that meets your expectations is truly a find in today's business climate. To find a business partner that far exceeds your expectations is truly remarkable.

It doesn't end there. Both Andy and Candi have truly became friends. They make me feel at home when dealing with business matters or just stopping in and saying hello. You can not help but trust their every move.

It has been and continues to be an honor to do business with Dogwood Realty, L.L.C. You will always be our first choice. Thank you for being there every time!

Respectfully,

Joe & Suzanne Schlueter
Andy,

I simply wanted to thank you and your staff for the outstanding and professional manner that you conducted in the sale of my home on Old Walland.

I can't say enough how very much that I appreciate your cooperation in helping me when the tree fell on my home, not to mention that you kept the buyer's interested in my home.

Andy, the expedient way or the timely fashion the contractor repaired my damages was incredible, all due to your guidance and caring.

I highly recommend you and your company and I wanted to mention that I not only sold my home, I now have a real friend.

My Sincere Thanks,

John "Chubby" Watts

Former Asst. Comm. of Labor and Employment Security of the State of Tennessee